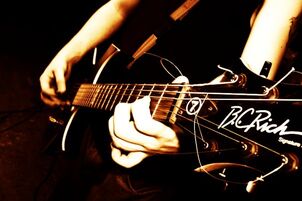 |Home|Tips on Updating this WIKI|Rules|Band|Musician|Disbanded|Seeking Musician|
Welcome to the Australian Music Wiki
Edit
No-one is too unknown, no-one is forgotten. - Australian Music Wiki motto. Australian Music is a comprehensive wiki for Australian Musicians and Bands.
Find individuals from old bands, research new bands or find that one member from that concert ten years ago and see what they are up to now.
Don't foget you too can update this wiki with information, whenever you want! Help us grow into the one-stop of Australian Music information!
Why a Wiki?
Edit
Australian musicians have come and gone, sometimes with a huge impact like AC/DC, some like Bob. There is a strong need for a database of all those forgotten musicians, those now defunct bands we loved to see at the local venues. What happened to them? Where are they now? Using wiki format you can now trace an individual over their career, see where they started off. Each musician can make their own page, add info important to them, pictures and links to their work throughout their lives. No song/composition should be forgotten by them, so here we try to preserve what Australian music has accomplished. No-one is too unknown and no-one is forgotten, that is the Australian Music Wiki motto.
Latest activity
Edit