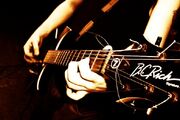 This list is a work in progress and only contains submissions found on either Copy-23 @ Newgrounds, MrSparkyson @ YouTube and Nano Crisis @ Facebook.
Bens comprehensive back-catalogue is kept in private with an estimated 500+ compositions in a wide array of formats/medias.
Ordered by Latest Submission First:
Songs titles are how they appear online and may not reflect future decisions to change their titles later.
Nano Crisis - Zero
Bleed My Eyes Out (Nano Crisis title)
All I've Got (YouTUBE Live Clip)